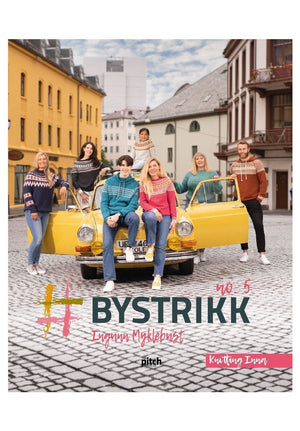 #Bystrikk No. 5 (#5) - Norwegian language
After selling more than 100 000 books in Norway over the past four years, Ingunn Myklebust is still making us "yarn" for more. Luckily, the newest book in Myklebust's bestselling knitting series is finally here.
Ingunn Myklebust is one of Norway's most popular knit designers. She stands out with her beautiful patterns and colour combinations, and her unique and versatile designs has gained her a huge fan base internationally as well as back home.
The fifth book in the Urban Knitting series gives us 40 new recipes for grown ups and small ones alike. She has incorporated more of her new Knitting Inna Colours, and timeless designs that never goes out of style. No matter whether you're picking up your needles for the first time or are a seasoned knitter, the book is so easy to follow that anyone can do it.