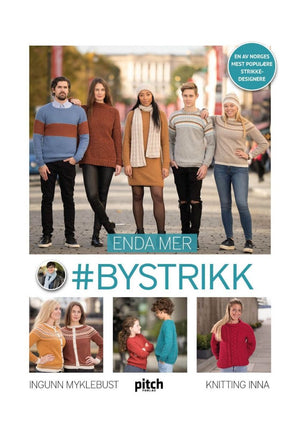 Enda Mer #Bystrikk (#2) - Norwegian language
The success continues. After a fantastic first year on the bestseller list Ingunn Myklebust published her second book; Enda Mer #BYSTRIKK, with new patterns and with a newly developed yarn collection in alpaca wool. Ingunn Myklebust is one of Norway's most popular knitters and has more than 61 000 followers on Instagram.
Ingunn's patterns are easy to knit, she combines an urban style with tradition and hopes her design- and color combinations will inspire you to create your own variations.
In this book you will find 48 new recipes, among them recipes for women and men, children – and even garments for your four-legged friend. Check out the urban skirt Barcode, the fantastic Janneke-sweater and the cool arctic sweater for men.