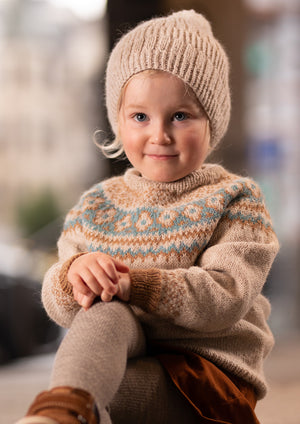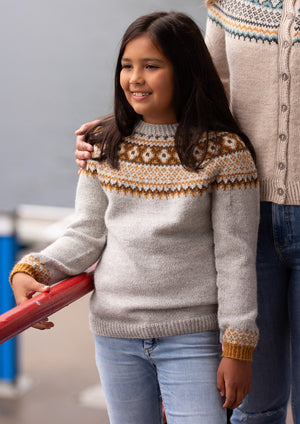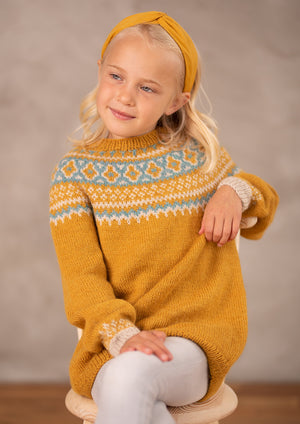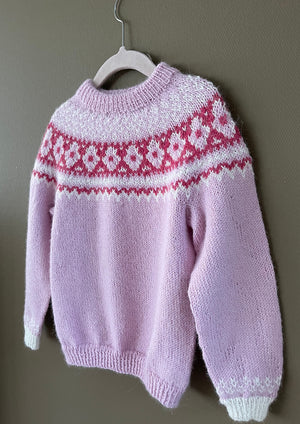 ByFin Sweater - 1-12 yrs (pdf)
We are hereby introducing the ByFin Sweater for kids. To balance the yoke in the kids version, we've reduced the number of colours in the pattern to two. It looks even better, to be honest. The sweater is knitted on circular needles from the bottom up with a round yoke.
Sizes: 1-2-4-6-8-10-12 years
Full length: Ca 32-34-38-43-48-52-56 cm (centre front, incl. neckband)
Sleeve length: 21-23-27-31-34-37-41 cm
Bust: Ca 61-64-68-71-74-79-85 cm
Tension: 25 m = 10 cm Keep in mind that the needle size is for guidance only. We recommend knitting a swatch to ensure that the gauge is correct.
Suggested needle sizes:
Double pointed needles, size 3 and 3.5 mm
Circular needles 40 and 80 cm, size 3 and3.5 mm
Yarn: Alpakka Forte from Dale Garn, 80% alpaca, 20% nylon. 50 g = 133 m
Yarn needed:
Base colour: 3-3-4-4-5-6-6 skeins
Pattern colour 1: 1 skein
Pattern colour 2: 1 skein