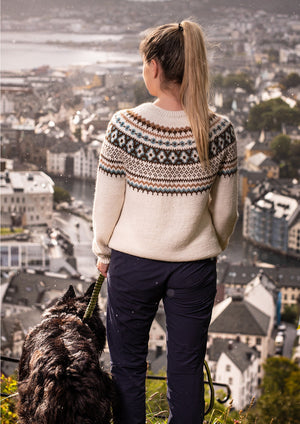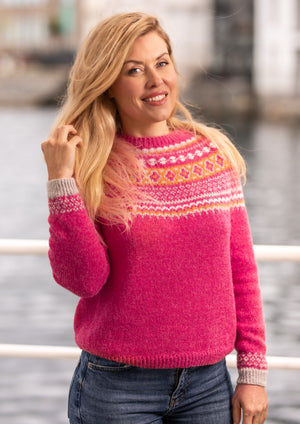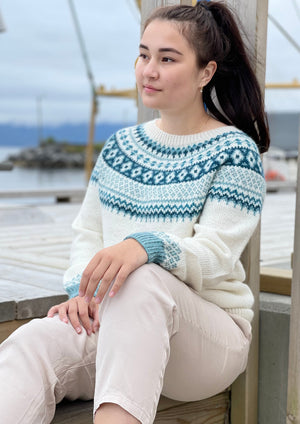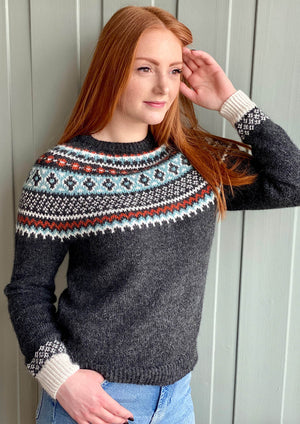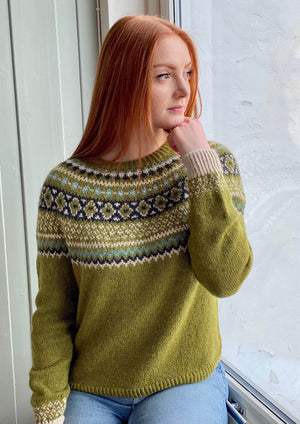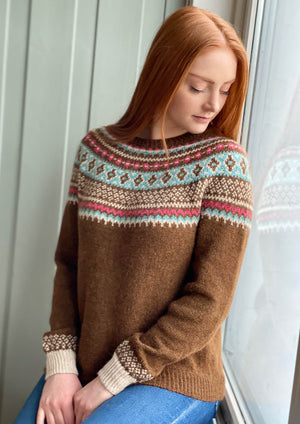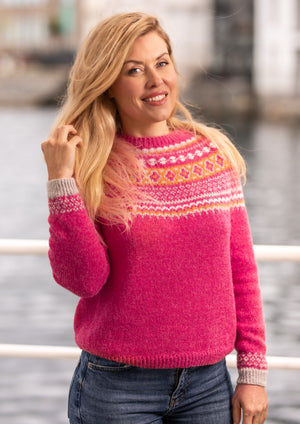 ByFin Sweater (pdf)
This sweater is knitted top down with a round yoke. The elevation in the neck is knit by using GSR – German Short Rows. This elevation gives the neckline a great fit, but is completely optional.

Sizes: S-M-L-XL-XXL-XXXL 
Full length: Approx. 58-60-62-64-66-66 cm at the centre back, incl. neckband and curved neckline.
Sleeve length: Approx. 46-47-48-49-50-50 cm
Bust width: 93-99-106-113-120-127 cm 
Knitting gauge: 25 m = 10 cm
Keep in mind that the needle size is for guidance only. We recommend knitting a swatch to ensure that the gauge is correct.
Suggested needle sizes:
Double pointed needles size 3 and 3.5 mm
Circular needle 40 og 80 cm 3 and 3.5 mm
(Knitting needles in various sizes areavailable for purchase in our webshop)
Yarn: Alpakka Forte from Dale Garn, 80 % alpaca, 20 % nylon. 50 g = 133 m 
Yarn needed:
Base colour: 7-8-9-10-11-12 skeins
Pattern colour 1: 2-2-2-2-3-3 skeins
Pattern colour 2: 1 skein
Pattern colour 3: 1 skein