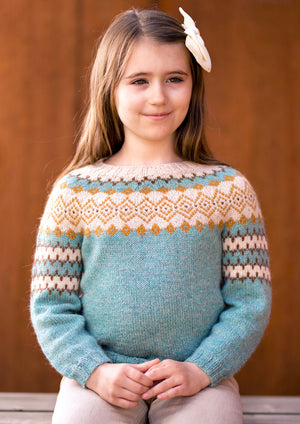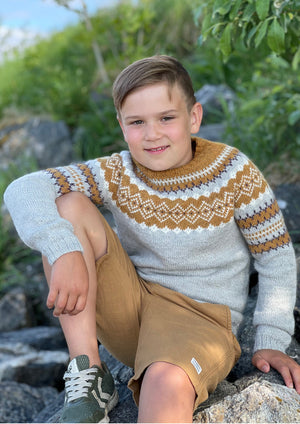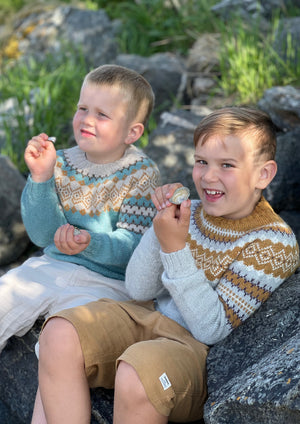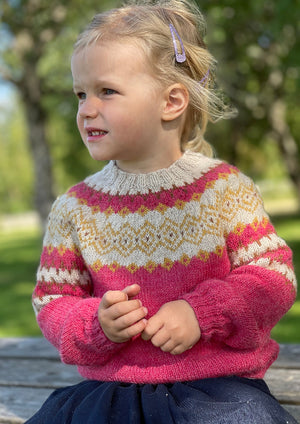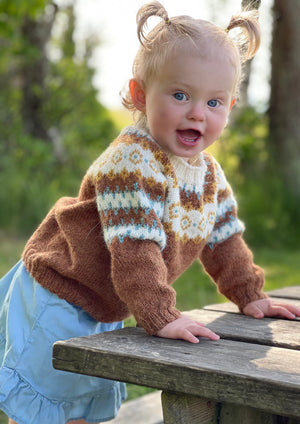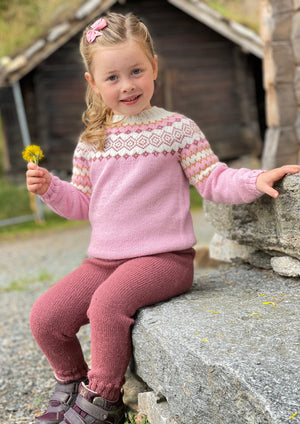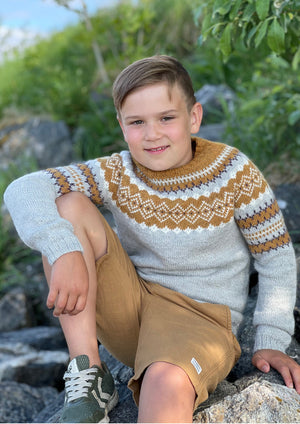 RetroFin Sweater 1-12 yrs (pdf)
The adult version of RetroFin was designed for the knit-along with Bystrikk 2021. This is the kids version. In order to make the yoke fit, we had to remove one of the borders from the adult version, but we've kept all four colours.
The sweater is knitted on circular needles from the bottom up with a round yoke. As the pattern makes up a large part of the sleeves and yoke, it's crucial to maintain the correct tension while knitting for a good result. If your tension is looser than stated in the instructions (i.e., fewer stitches per 10 cm), both the sleeves and the yoke will be too long.
Sizes: Ca 1-2-4-6-8-10-12 years
Full length: Ca 32-34-38-43-48-52-56 cm (centre front, incl. neckband)
Sleeve length: Ca 21-23-27-31-34-37-41 cm
Bust: Ca 61-64-68-71-74-79-85 cm
Tension: 25 sts = 10 cm.Keep in mind that the needle size is for guidance only. We recommend knitting a swatch to ensure that the gauge is correct.
Suggested needle sizes:
Double pointed needles, size 3 and 3.5 mm
Circular needles 40 and 80 cm, size 3 and3.5 mm
Note: Many knitters need to use needle size 3.0 mm to achieve the correct tension using this yarn. Check your natural tension before starting.
Yarn: Alpakka Forte from Dale Garn, 80% alpaca, 20% nylon. 50 gr = 133 m
Yarn needed:
BC: 3-3-3-4-4-5-6 skeins
PC1: 1-1-1-2-2-2-2 skeins
PC2: 1 skein
PC3: 1 skein