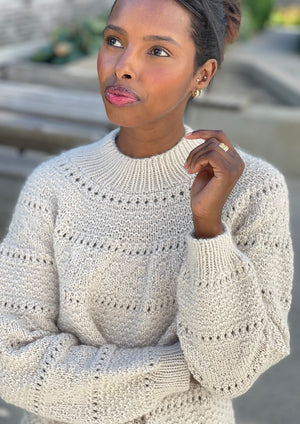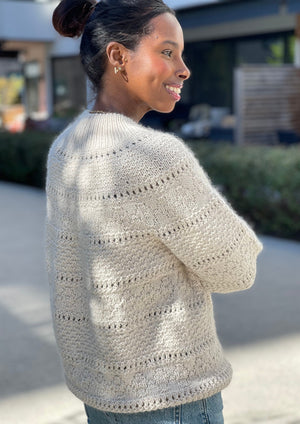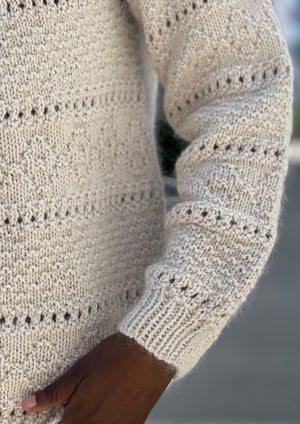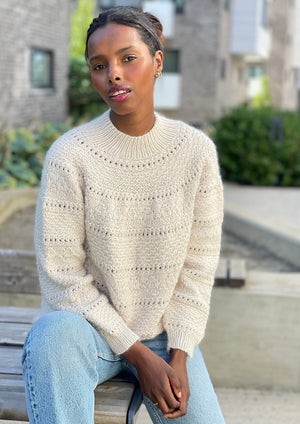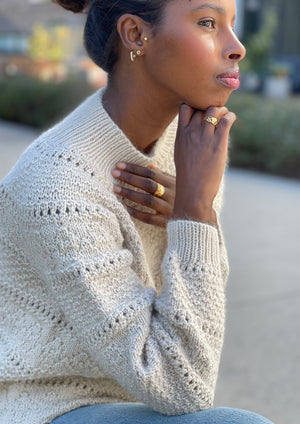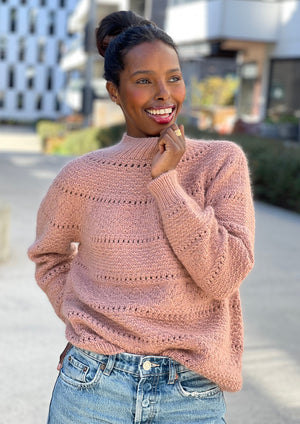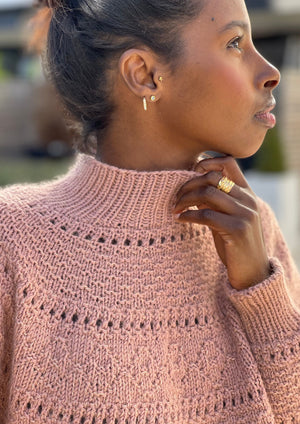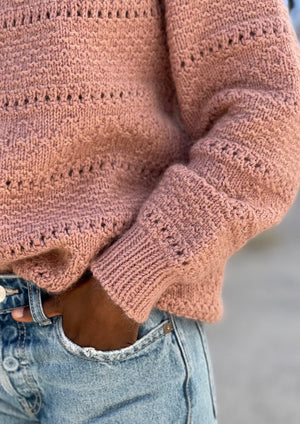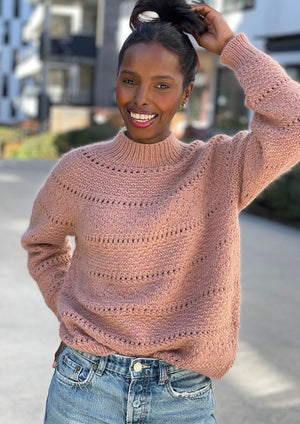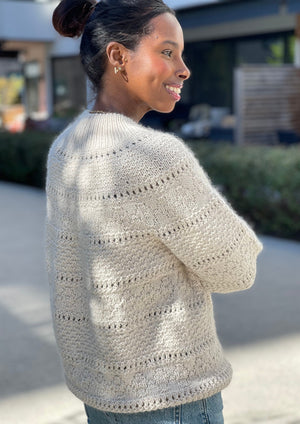 Sienna Sweater
Sienna Sweater is knitted top-down using one strand of our own yarn, Bystrikk Merino, and one strand of Tynn Kidsilk Erle. The result is a soft and perfectly fuzzy sweater with a clear and visible texture. The sweater has a round yolk and increases, as shown in the chart.
Here, we've transformed the colour pattern from our beloved Wyvern pattern into a textured pattern. This repeated pattern is both easy and fun to knit.
Do you need to buy yarn? Please contact butikk@bystrikk.no
Sizes: XS-S-M-L-XL-XXL
Full length: Ca. 56-58-60-62-64-66 cm (at the shoulder)
Sleeve length: Ca. 43-44-45-46-47-48 cm
Bust width: 89-98-107-116-124-133 cm
TIP: If you would like an oversized model, we recommend knitting the sweater one size larger than your usual size. The length of the body and sleeves can easily be adjusted to your preference.
Knitting gauge: 18 sts = 10 cm (texture)
Keep in mind that the needle size is for guidance only. We recommend knitting a swatch to ensure that the gauge is correct.
Suggested needle sizes:
- Double pointed needles, size 4 and 5 mm
- Circular needles 40 and 80 cm, size 4 and 5 mm
Yarn:
-Bystrikk Merino from Bystrikk, 100% extra finemerino wool. 50 g = ca. 125 m
- Tynn Kidsilk Erle from Dale Garn, 53% kidmohair, 34% silk and 13% wool. 225 g = 287 m(knit with two strands).
Yarn needed:
-Bystrikk Merino: 8-9-10-11-12-13 skeins
- Tynn Kidsilk Erle: 4-4-5-5-5-6 skeins
Colour codes, nature:
- Bystrikk Merino: Sand (BY203) & Tynn Kidsilk Erle: White (4001)
Colour codes, rose:
- Bystrikk Merino: Dusty Rose (BY210) & Tynn Kidsilk Erle: Salmon pink (4004)